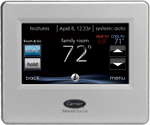 Thermostats are used to turn on heating or cooling systems to bring the home to a set temperature. In addition to basic temperature control, programmable thermostats can be used to manage the indoor environment of your home at different times of the day or week. This type of control can have a dramatic impact on the overall energy use of your home. We carry a complete line of thermostats. Let us help you choose the one that best matches your lifestyle.
Programmable Thermostat Product Offering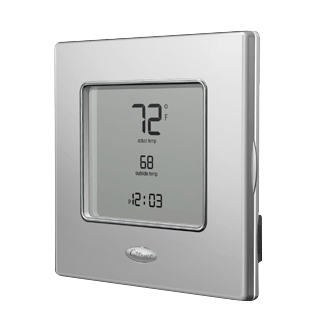 Performance™ Edge® Programmable Thermostat
View Brochure
Model Family: TP-PHP01-A
Programmable: 7-day programmable
Communicating Capability with HVAC Components: Not compatible with heat pumps. This model is configured for systems using an air conditioner for cooling.
Remote Access: No
Screen: Large, backlit LCD display
Warranty: 5-year parts limited warranty
Manufacturer's Stated Benefits:
Intuitive, on-screen prompts
Large, illuminated display shows inside and outside temperatures and time
Comes with attractive silver faceplate
Intelligent, heating- and-cooling comfort staging capable
Auto changeover between heating and cooling
Ventilation management capable
Day-at-a-glance 7-day or 5/2 (wake, away, home, sleep) programming
Vacation programming controls temperature and humidity
Smart recovery for energy savings during system ramp up periods
Fixed-schedule based filter,UV lamp and/or humidifier panel replacement reminders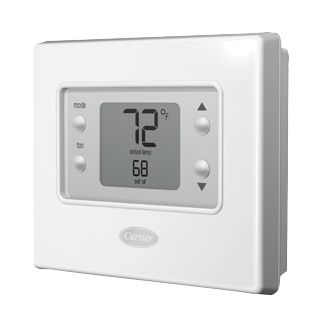 Comfort™ Programmable TOUCH-N-GO® Thermostat
View Brochure
Model Family: TC-PHP01-A
Programmable: Week / Weekend with Touch-N-Go® feature
Communicating Capability with HVAC Components: Heat Pump Compatible
Remote Access: No
Screen: Large, illuminated display
Warranty: 5-year parts limited warranty
Manufacturer's Stated Benefits:
One-button Touch-N-Go® quick-settings-change feature
Large, illuminated display
Intelligent, heating and cooling comfort staging capable
Auto changeover between heating and cooling
Fixed-schedule based filter replacement reminders